Wizard Wednesday Recap, 2023-10-18
Jump to navigation
Jump to search
Elf kicks off the show with a request from Jitcy to play the "Dayman" song from It's Always Sunny In Philadelphia. After the introductions, Bearsnake says that he was on the East Coast last week and he and Jitcy got to see the Always Sunny cast perform the song live.
Battle for Goblin Town
Elf says that Dotta and Bear were speaking about Battle For Goblin Town on a space before Wizard Wednesday and notes the host asked what it takes to be a cult leader. He was unprepared to hear "You have to convince the people around you to sacrifice their soul to a jelly donut."
Dotta says the Space was with members of the ApeDAO council, and they spoke about Magic Machine's recent proposal to make Battle For Goblin Town ApeCoin exclusive. If the proposal passes, all of the economics of the game that would otherwise use ETH will instead use ApeCoin.
Reasoning Behind ApeDAO Proposal
Elf notes he has seen confusion about the purpose of the team's ApeCoin proposal. He states that the team is always trying to scale to other communities, and the inclusion of ApeCoin is another way to do that. He says it will also allow a prize pool for the game. Dotta notes a small crossover of a hundred or so Forgotten Runes members who also own Bored Apes, who he says are helpful by vouching for Magic Machine. While he feels that Forgotten Runes has a good reputation, he says some of its deeper messaging is missed by other projects. Bearsnake says the proposal is a way to tap into an ecosystem where there is a lot of liquidity, but nothing to do with it — and they're mainly looking for games. He also says that Magic Machine didn't seek out this agreement — it was a possibility that was brought to them.
Teams
Dotta then briefly speaks about the new Teams mechanic for Battle For Goblin Town. He says the idea is that players will be able to collaborate on Teams based on the NFTs that they hold. He says he doesn't plan to allow a Team collection with a floor lower than Warriors. Dotta imagines a scenario where players collect Warriors to be able to participate on a Team. However, he also notes that a decision has not yet been made about separating Forgotten Runes into Teams for every Character collection versus creating a singular Forgotten Runes Team.
3D Halloween Event
Bearsnake then says Magic Machine played a build of the Halloween experience and mentions the fun he had while playing.
Bear says:
"We're building it in two weeks, so we're trying not to have crazy expectations, but the Improbable team just keeps delivering really cool stuff."
Bear also notes his belief of a bright future in virtual events with "appointment playing" that exist only for a limited time on a specific server. He says he believes this could be an experiment on the path to more frequent virtual live events.
Elf says that the team is recreating the Vampyre Mist for the event, and the Nightmare Imp will be a main character in the event. A special character will be reserved for those without Forgotten Runes tokens. Elf notes the team has ideas to allow other projects to participate.
Dotta says the 3D Souls blew his mind, and he can't wait to share them with everyone. Elf says the Souls seem more organic in 3D, noting asymmetric zombies and full-detail skeletons. He also says the Ghouls may be slightly NSFW, and says they may have to censor them later.
BlackSand x Heroes Of Cumberland
After that, Feckless joins to speak about the ongoing BlackSand race featuring the Heroes of Cumberland collection and notes the prize is a 1/1 — Doughy, the Prince of O. He says that for the duration of the race, the mint price for the Heroes is reduced to .015 ETH. Elf asks how many Heroes of Cumberland are left to mint. Feckless says there are plenty. Around 400 out of 5,000 total have been minted. Elf also asks how many 1/1's exist in the collection. Feckless says there are around seven or eight, not including honoraries.
On the topic of BlackSand and Heroes of Cumberland, Feckless also mentions that those who play the cucumdog game and enter their Discord name on the leaderboard receive one additional roll in the ongoing BlackSand pony race. Continuing with community-based projects, Elf also says that Runes TCG has an ongoing Runes Rumble tournament as well.
He also notes a work in progress posted by Ozzz that hints at potential card animations for the game.
Cult Questions
Elf's Animations
Elf then dives into Cult Questions. Madotsuki asks Elf about his process for animating the bat from the upcoming Halloween event. Elf says he has animated bats before, but they were more optimized for film. He says he thinks the new rig looks better even though it is simpler.
Cyborgs & Liches
Then, SPZ asks about Cyborg and Lich lore and if they have any connection. Elf notes that cybernetics are used by all peoples in the Runiverse — some enhance or even extend life. In rare cases the technology interacts with Magic. Elf says Liches have dabbled in cybernetics.
Elf says that Liches are sophisticated for undead creatures and have retained much of their humanity even after Sacred Flame transmogrification. He hesitates to say any Runiverse beings are totally evil — with the exception of Liches.
"These are some straight up evil dudes."
Elf says, "The Lich Emperor Supreme has organized militarized ranks of undead Liches and Wraiths to spread an icy fascism and Shadow of despair across the land. They're the most elite of all of the Souls."
Elysian Gates
After that, Sharon asks if the Elysian Gates have a Gatekeeper, who holds the keys, and if there will be a contest or event to open those Gates. Elf says no one sits the Gatekeeper post, but if there is a de facto gatekeeper, it is likely the White Wizards in their Tower. Elf says that an Elysian Gate opening event would be a really fun idea, but he has learned not to talk about any possible ideas until the team is 150% committed to doing it.
Bearsnake Takes Comic Con, NY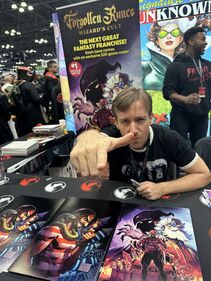 Bear then talks about his trip to New York Comic Con. He notes the positive energy and the feeling of being around like-minded people. He says one of his favorite reasons to attend is to keep a pulse on current interests, as the conference now extends far beyond just comics. Bear says that he also took his mom to one of the days at Comic Con, as she wants to create a graphic novel of her stories. When searching for illustrators, he made connections with artists who may also create cover variants for the Forgotten Runes comics.
Reilly Brown Signs Posters
Bear says that the booth with Reilly Brown and Unknown Comics was on the main floor and notes that Reilly signed around a couple hundred posters. Bear says he also got a stack of signed posters to give away to the Cult at a later time. Bear speaks about the experience of engaging with people outside of NFTs and the financial community and notes signals of interest in the IP beyond Web3. Elf says he agrees that the IP is the most valuable aspect.
"Every NFT project...is just a new media IP project."
The Second Coolest Thing, Artist Alley
Elf asks what the second coolest thing was at Comic Con besides the Forgotten Runes comic. Bear says that would be "Artist Alley," where artists that illustrate for publishers like Marvel, DC, and Titan have individual booths. He says it took him an hour to walk through.
Cult Content
Elf then segues into a review of the 39th week of Tania del Rio's Cult Content Chronicle in which she highlights content from the past week within the Forgotten Runes community. After the Cult Content Chronicle review, Dotta speaks briefly about a new AI agent from Microsoft called AutoGen, a new SocialFi platform called Simp, and gives a brief update on WORDS app. He says he has ideas for a WORDS v2, but his time currently is dedicated to Goblin Town.
To close the show, community member Sharon shares a wonderful bedtime story featuring her Wizard, Galatea, and Litho, the bullfrog familiar.