Wizard Wednesday Recap, 2022-02-23
Jump to navigation
Jump to search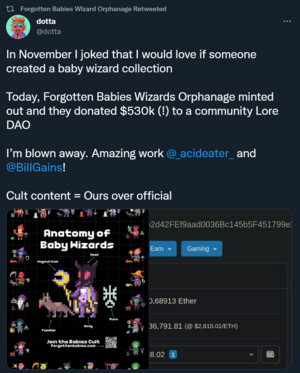 Two Notable Community-Led Projects are Released!
Forgotten Market
Led by volunteer developer TV, the Forgotten Market is a wizard marketplace with a new interface - for example, hover over a Wizard to see their walk cycle! Wizard details page includes information on traits, affinities, map location and lore. This marketplace allows you to filter by affinities and whether the wizard has lore or not. You can list directly in this marketplace to contribute fees to the emerging House of Wizards, but this market also aggregates listings from other popular NFT marketplaces.
This is a great way to better display more of the Wizards' depth, because they are more than a JPEG! TV thanked Mephistopheles, Peter from the Reservoir protocol, Niski, Pyromancer Peppy, spz, PVK, Bill Gains, and youngwhizzie (animations) for help with the marketplace.
Forgotten Babies Wizard Orphanage
The Forgotten Babies Wizard Orphanage is a new derivative collection that was released this week. Pixel wizard babies, based on the original art, but with new traits and combinations. There was an issue during presale mint with funds failing to go to a House of Wizards multi-sig gnosis vault, but Mephistopheles found a solution and public minting will continue in phases. Project headed by wizard power couple Bill Gains and acideater.
Magic Machine Updates
Comments on Allowlists/Mintlists
The Magic Machine team has been getting offers from projects for getting Wizards on Allowlists. Everything ranging from Tubby Cats down to total scams. Dr. Slurp volunteered to lead a community screening for mintlist proposals. The FRWC team recognizes that presenting mintlists to its holders is sort of an unspoken endorsement no matter what disclaimers are given, so this screening will help filter through them a bit. Holders should keep an eye on the #alpha channel for further info.
TV Show Trailer Update
The Forgotten Runes TV show will help spread the messages of the Cult to a wider audience. The story will contain many of the core themes the team wants to communicate. Bearsnake talked about the process of selling & creating a multi-season show, from a business & strategic standpoint. The TV show trailer is fully animated, now in sound production. The plan is to release the trailer just a few days before the Forgotten Warriors Guild collection drops. And the Warriors drop will help fund production of the full show.
Live Event News
LachnessMonsta was the team representative at the ETH Denver conference. She was able to explore the city and met the Wizards poster team! FRWC posters were visible throughout the city (not only downtown). She was able to meet with many wizard-holders for dinner (and wine provided by Bitvargen). The dinner was co-organized by Bambam. It felt like Wizzie Discord IRL, and the conversations were great, much lore-sharing was had. The next event will be NFT NYC on June 23rd, with plans for a wizard pop-up restaurant and free distribution of the comic book. Elf and Bearsnake confirmed that they would attend this one!
Book of Lore Survey Results
Magic Machine has been discussing the results for a few weeks. There were 322 full responses, with 30 mins as the average time for completion. The results have been published publicly.