Wizard Wednesday Recap, 2022-05-18
Jump to navigation
Jump to search
Forgotten Runes Warriors Guild: Mint Status Discussion
Most of this round up will cover the discussion around the Forgotten Runes Warriors Guild mint status, since this is the burning topic that was on most people's minds. As of today, about 6,000 / 16,000 warriors have been minted since the initial phase was launched a week ago. With this in context, Magic Machine (MM) recapped the history behind the Warriors collection. Elf acknowledged the current macro market environment, and likened it to the burst of the .com bubble. Dotta said that he definitely felt a change in the discord running up to the mint and into today. And he definitely wondered if they ruined a good thing.
The Warriors were on the V1 roadmap (as the final item). Eventually, the V2 version was released, and more things were added, and so far the team has shipped many the things on it, now including the Warriors. The team surveyed the community back in February to gauge how many to create. The community favored somewhere in the range of 10-20K warriors. Regardless of the number, the team was committed to a high-quality collection. A line-up of high-profile guests (Kristian Nairn (Hodor) and Alexis Ohanian) and announcements (TV trailer!) were released leading up to the NFT drop.
MM noticed that many other projects have dropped collections with much less traditional marketing activity than this. Many of the metrics (# of Twitter followers to the official account, Premint allowlist submissions) were also very promising. On the day of the drop, UST and Luna crashed, & MM wasn't sure what to do. The team didn't want to cancel, and asked some trusted advisors/whales for advice. No one was 100% sure, but thought waiting wouldn't help matters. At the end of the day, the auction went forward. In hindsight, Dotta thought the dutch auction was too slow. Dotta doesn't like to talk about price, but given the situation and requests for comment, he went into it today. He said three options to change the current mint are possible:
Lower the price - Dotta feels it's the worst option and it penalizes early buyers. Dotta feels 0.6 ETH is a fair price, and it's worth that. He believes that a "mint out due to lower price and then slingshot upward" type effect seems unlikely in this market.

End the mint. Dotta said if the mint is ended, it's unlikely that it can be re-opened successfully. And if its closed permanently (remaining tokens burned) then it unbalances the collections, because warriors would be rarer than wizards. That would be bad both for wizards floor and narratively. It's not a standalone collection that could get away with something like that. Elf chimed in that he thinks the NFT meta has changed at this point, and instant mint-outs will be few and far between going forward.
Airdrop the remainder to the holders. May benefit existing holders, but as far as floor price, it would likely lower the floor to the point where holders wouldn't benefit (unless they dumped first).
In the end, MM doesn't want to pursue any of these options at this time. A character mint is a rare thing - these are the only warriors that will ever exist in the Runiverse, and in the long term, the number isn't large considering the expected destination. Elf feels like if the market hadn't turned, we wouldn't be having this conversation. MM will keep world-building and shipping, and current and potential new cult members will have an extended period of time to mint warriors. To give a balanced view, on discord there were many in support, but also multiple voices still pushing for a lower mint price. The primary reason provided is that it is hard to onboard non-NFT/crypto native people at the current floor price.
Later, Dotta was asked whether he's concerned about the perceived lack of attention for the project. Elf, Dotta, and Bearsnake weren't concerned, saying they don't compare FRWC to NFT projects that prioritize hype cycles before building a foundation to stand the test of time.
Jitcy Joins Magic Machine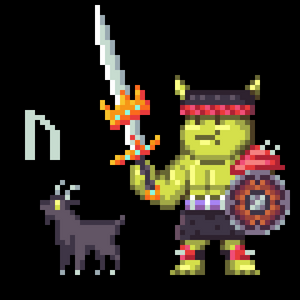 A new team member has joined Magic Machine: it's Jitcy! Jitcy will be helping Magic Machine move forward with new initiatives. One of them is Coffee with Magic Machine - a 1 hour+ weekly Twitter spaces with members of the team and guests. It's intended to be less formal & structured than Wizard Wednesday and allow for even more audience participation & questions, including from people who are new to the project. Jitcy will also work on building collabs and relationships with other NFT projects, and helping to problem-solve and augment other MM team members' efforts wherever needed.
2nd Merch Drop Confirmed
Official FRWC merch samples have been approved. There are long-sleeve shirts, short-sleeve shirts, hoodies, a tote bag, and more. There will be some merch at the NFT NYC party. These pieces will also feature some of the new branding.
NFT NYC Party Details
Speaking of the party, the NFT NYC event will use a 17,000 sq. ft. space, and event preparation is well underway. It will be more than the typical "drinks and dance party", an immersive experience celebrating the past, present and future of the Cult. The event (which does not require you to be a token-holder) will run from 8 PM - 2 AM (but you can arrive a little earlier) and a possible after-party was hinted at.
Elf Talks Warrior Names
Elf talked a bit about the Warriors collection. There are all-new names that are flexible by design. By inserting (or leaving out) a comma after the first name, you can adjust their background and story. Ex: Hilda, Slayer of Goblins vs. Hilda Slayer - of Goblins. The names revealed new locations, such as "Mount Titan", and some warriors are from previously Forgotten Souls-exclusive locations. There are even new factions, such as the Duck Alliance and the Rune Raiders. FYI, in the Runiverse, "duck" means a non-magical person. A wizard calling someone a "duck" is an insult, but among the non-magical, "duck" can be a term of endearment. Some warriors even have ducks as an ironic and symbolic companion. Elf also mentioned that mythical weapons like Thor's Hammer (Mjolner), Excalibur, and others are in the collection. And some of the legendary weapons are wielded by unlikely warriors (such as a chicken-chopping Kobold).
Comic Book Publishing Update
The upcoming comic book, beyond the story, also features a lot of fun ads, and a new partnership! A street team will be giving out comic books and jelly donuts to everyone in the vicinity of NFT NYC. A wider book publishing deal is also in the works.
House of Wizards Contests
House of Wizards news: The logo contest is open until June 20th. Also, a giveaway is launching for the Forgotten Market - if you list and sell on the Forgotten Market you will be entered into a drawing to win a Warrior!
Ozzz Starts the Atelier
Ozzz released a series of pixel illustrations and an original song, which will be auctioned. The winner will have commercial rights to the song. Also, the Atelier of Ozzz project will be released soon…stay tuned.