Wizard Wednesday Recap, 2021-10-20
Jump to navigation
Jump to search
Dotta Speaks in Coinbase NFT Spaces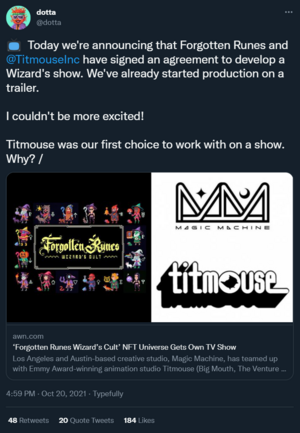 Dotta was part of a panel of NFT creators speaking in a Twitter Spaces of the inaugural partners for the Coinbase NFT platform. The project gained a lot of attention as a result.
Dotta said that it was fun to be part of the panel. He talked about how NFTs make derivative art more interesting. An analogy is plagiarism vs. citation, you can't just copy other's work, but you can cite it, and give them credit for the idea, while building on top of it. In software, open source software works because you can see who contributed specific code to the project, built on layers. In NFTs, you can have derivative projects. In the traditional art world, these projects are often frowned upon, but for NFTs you have cryptographic proof of the originals, and so the derivatives are tributes to those. Elf added that he doesn't think anyone has approached this concept in the fantasy world into Forgotten Runes.
TV Trailer Animation Update
It was formally announced that Titmouse studio would be working with Forgotten Runes on a long-form animation show. Bearsnake said that this was a crucial step to developing an animated show, and that Titmouse has been responsible for various shows that have aired on major TV and streaming platforms. Elf said that this deal would not have been possible without Bearsnake's connections, and this type of thing is exactly why he was brought on as a founding member of the team.
Elf's goal for the writing is to use the Book of Lore as source material. This doesn't mean that the stories go in exactly as written, but more as inspiration for a larger narrative. Bearsnake said that a show-runner will be brought in to be in charge of the writer's room and work on the day-to-day work of the show's creation, helping to translate the Forgotten Runes IP in a television format. And he would love to find a way for financial benefits derived from the show, to be spread out to the community of holders. He acknowledged that this would be unprecedented in the world of entertainment, and as a result, getting the legal and regulatory aspects figured out will take time.
When asked about the target audience for the animation, Elf said he'd like it to be oriented more toward adult audiences. Bearsnake said he likes shows that can work for multiple audiences - appropriate for kids, but also has content that adults will appreciate. Elf said that something like TV-14/PG-13 equivalent might work.
Dotta clarified that the deal is to develop and pitch the show with Titmouse, it doesn't guarantee funding or a buyer. This process will take time, at least 18 months, so holders will need to be patient.
Forgotten Souls Update
The final aspects of the Forgotten Souls Burn event are being put together. Dr. Slurp was hired to create music and sounds for the burning process. Slurp came up and talked a little about his creative process.
Dotta said he will be in "programmer mode" for the next week or so to ensure that the event is ready by Halloween.
Elf mentioned that the Secret Tower on the website has been updated with some thematic visuals.
The Mysterious Disappearance of WAGMI-san
LachnessMonsta came up and talked about some inter-project happenings between Forgotten Runes and 10KTF. Grailed 10KTF holders came into the discord on a "search for WAGMI-san." Some wizards played along with the role-playing, although WAGMI wasn't found in the Runiverse. The significance of these events was still cryptic at this point.
Madotsuki noted that this is a prototypical version of a game-like NFT experience.
Other Magic Machine Announcements
Bearsnake said that the merch box is still in development, it has been delayed by supply chain issues. He expects it to be arriving at people's doors in late-November / early-December. He was cagey about the contents of the box for now. Dotta reassured people some some of the "major items" would be delivered later.
Walk-cycles are still in progress. Everyone involved is busy with other projects, and Elf is working on Souls art at the moment, but they will arrive eventually. But Elf is happy to see the Wizard turnarounds being used already.
Lore Reading
The lore reading this week was from Shroomie reading about their Wizard,
Illusionist Gaspard of the Oasis (9566)